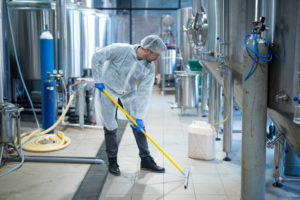 Advance Cleaners Ireland Ltd have over 40 years experience in the cleaning sector for both contract clients and carrying out one off jobs for all types of industries ranging from offices, factories, food plants, schools, supermarkets and warehouses.
Advance Cleaners Ireland Ltd offers a customised cleaning solution to suit the particular needs of our customers, always treating each customer individually and personally. We believe communication between both our customers and staff is the key to providing a service that both parties can be proud of. We define ourselves by providing excellent service from trustworthy and efficient staff to deliver our customer service.
When looking after our contract clients we meet with them regularly both before and during the contract to discuss their requirements and then develop a suitable tailored specification to achieve the standards they wish for their premises. We then deliver on site specific training for all our staff for the site and ensure we have back up site trained staff for holidays or emergency cover to ensure there is no impact to the client. We always monitor and provide feedback on all aspects of the contract to provide 100% attendance and customers satisfaction.
We provide an on demand cleaning services to all clients for all aspects of cleaning that would not be on a contract basis.
Some of the services we offer are cleaning at height, high pressure descaling, Washroom Hygiene services, window cleaning, power washing, gutter, fascia and soffit cleaning, initial cleaning, builders clean, Drain services and Fire and Flood restoration etc.
Our Commercial & Industrial Cleaning Services include:
If you want a service to rival all others please call our office to discuss your site requirements.