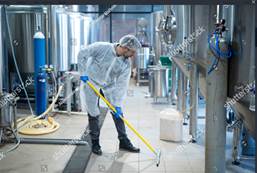 The food processing and manufacturing industry in Ireland is wide and varied. In Ireland this section of industry ranges from high end technology such as bio-medical right across to Food processing such as baby food. It is essential when looking for cleaning in this sector that you select a contract cleaning partner you have confidence in and the belief that they understand your sector of the market. With 40 years working with clients in this sector have their operatives trained to the standards that your industry requires.
What we can offer
We provide a tailored service to suit your business needs within a budget that suits you. Weekly on site audits carried out by our management team coupled with regular contact with on site management ensures that all regulatory, quality and site standards are continually met. Our unique 100% attendance guarantee gives peace of mind to our clients.
With the use of state of the art equipment and highly trained operatives on site working to a tailored cleaning package, which works with the demands of the site clients are content in the knowledge that they receive a quality service 100% of the time.
Contact a member of our team by calling us on 053 9145500 and a member of our management team will look after your needs.