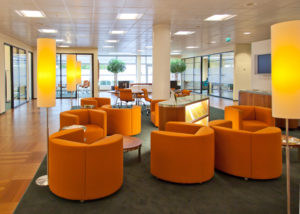 At Advance Cleaners we offer a tailored office cleaning package to suit your business needs within your budget. Why use valuable working time to clean when your staff could be more productive for you.
We work with you to schedule the cleaning services around your working schedules.
We service offices of all business types including those spread across multiple floors or even buildings. Our full suite of services include vacuuming, dusting, sanitising, carpet and floor cleaning, washroom services,  window cleaning and high level cleaning.
We offer a Desk sanitising service which helps to eliminate the spread of bacteria, colds and Flu helping to reduce your rate of absenteeism. This service involves the sanitising and cleaning of desks, keyboard and mouse, monitors and phones.
Contact a member of our team by calling us on 053 9145500 and a member of our management team will look after your needs.