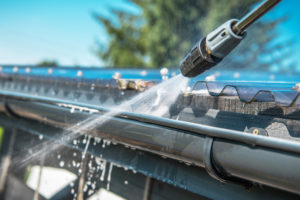 Advance Cleaners Ireland Ltd's innovative Gutter Cleaning service provides a safe, effective solution for all blocked gutters which could if neglected, lead to over-flowing gutter pipes, penetrating dampness and potentially having to replace or repair rotting fascia boards & unsightly stains on your exterior walls. Our remarkable new gutter cleaning system uses a high reaching vacuum system to access & clean gutters without the need for and risk of ladders. Our highly trained team can provide a fast and efficient resolution to all blocked gutters.
The service begins with an inspection of the gutters to assess the level & type of debris caught in the gutter. Our vacuum pressure system collects all wet or dry leaves, deep rooted plants and even toys that may be causing an obstruction to your guttering. The waste is then collected in refuse sacks & taken away by the Advance Cleaners Team leaving you with a job well done with confirmation of debris free gutters from our CCTV survey. We will also inform you of any potential maintenance that we may have noticed while carrying out our CCTV inspection.
Having had your gutters cleaned we would recommend installing our anti clog gutter liners to prevent any future debris build up. This foam based solution acts as a filtering barrier allowing rain water flow through your gutters while obstructing leaves, pine needles and other debris from lodging leaving your gutters clean and clear of blockages. This product protects your home from the potential cosmetic and structural damages caused by leaking gutters and is virtually invisible.
We provide a 24 hour emergency service to all our clients – Call 087 2599086