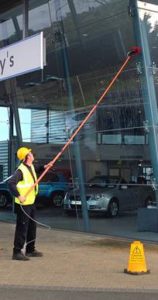 Our window cleaning services are on offer for once off jobs and regular window cleaning schedules for a wide variety of buildings of all shapes and sizes.
The use of purified water in providing our window cleaning service is treated to remove any impurities giving an optimum streak and residue free finish to your windows
Depending on the task we will use either traditional window cleaning methods or where necessary utilise our specialised high reaching window cleaning system that allows staff access heights of up to 65 ft while operators work safely from the ground without the need for ladders or high access equipment. This solution provides a modern and safe method of window cleaning whilst also cleaning the frame of the window. This system also can clean Atria, Panelling, Signs, Canopies and Fascias ensuring the image of your building is clean and welcoming for your staff, customers & visitors.
While our high reach system can cope with the majority of buildings there are some that pose more of a challenge in their design to deal with such buildings our staff are trained to use mobile hydraulic platforms or 'cherry pickers' to access unusually high or inaccessible buildings.
Call our office on 053 9145500 for further details
We provide a 24 hour emergency service to all our clients – Call 087 2599086