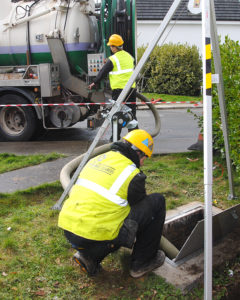 Advance Cleaners Ireland Ltd offers a wide range of drain services. We provide drain cleaning and unblocking services, no dig pipe repairs, CCTV surveying of drain pipes. Our speciaised vehicles are equipped to handle most occurrences. Using our extensive experience and industry knowledge we have equipped our vehicles to cater for all our field requirements. On a practical level this implementation will allow us access to the most restricted and inaccessible drains which challenge others equipment.
We have installed industry specific PTZ cameras equipped with LED lighting which are operated by our fully trained WRC team producing crystal clear and precise images of your problem area. When combined with your detailed site reports we can identify the specific issues or potential problems within your drainage system.
The van carries inspection equipment to examine all types of drains and includes push rods and two specialised robotic crawlers. With each job we can produce a full DVD and report based on our findings and our recommendations on how best to deal with the issue.
Our CCTV service is perfect for locating structural damage in pipe work and blockages. our specialised cameras can be used to determine the source of a recurring problem or identify the cause of blockages. The camera is guided through the pipe work, controlled by an engineer observing the image on a monitor screen showing full visibility of any defects or obstructions and their location.
Our engineers then produce a detailed report for our customers listing the areas that need attention and the recommendations to solve the client's problem and the most cost efficient and necessary method of repair. Our CCTV system is suitable for use for both indoor and outdoor pipes including factories, domestic houses, housing developments etc.
Our Drain Services & Cleaning include:
We provide a 24 hour Emergency Call out Service to all our clients – Call 087 2599086