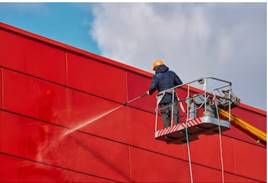 We at Advance Cleaners Irl Ltd offer a flexible industrial cleaning service which is designed to suit the schedule, needs and specifics of your business.
All our services are tailored to each of our client's needs and budgets.
With over 40 years of cleaning experience in the industrial cleaning sector we know how to look after you. During this time we have built a reputation of delivering a quality, professional and reliable service to our clients, some of which have been with us from the start.
Our Industrial Cleaning Team provides the following services to all clients
Builders Final Clean
Builders Initial Clean
Power washing
Deep cleans of canteen and kitchen areas
Internal and external window cleaning
Carpet & Upholstery Cleaning
Specialist cleaning including Confined Space Entry cleaning
Specialised floor cleaning
Specialised Computer and Telephone Cleaning
Stripping and polishing of hard floors
Floor Preparation and painting / sealing
Cleaning from bad weather conditions
Graffiti Removal
Full contract cleaning services
To see how we can service you and your business please contact a member of our team by calling us on 053 9145500 and a member of our management team will look after your needs.